Music
Chancel
Bells
Brass
Children
DC
Folk
Ukes
The Music Program
Music at the Community Church is very diverse. During the summer months we have varied and wonderful soloists and ensembles provide our Sunday music.
Our regular groups perform during the rest of the year. Whether your interest lies in folk music, handbells, brass, chancel choir or even ukuleles, we have a music program for everyone. Even if you have not had the opportunity to be part of one of these groups in the past, you are invited to join in now.


Brian Plaugher, Minister of Music
Brian was born into a family with interests in music and religion, in Hayward, California. His father, who taught world religion, sang bass with gusto at Eden UCC. As a boy, this caused Brian some embarrassment. As a teen, following the philosophy "if you can't beat 'em, join 'em", he sang tenor alongside his dad, in the congregation and church choir. Brian played trombone from an early age, and in high school was active in band, orchestra, and an award-winning jazz ensemble, as well as vocal groups. He continued to be deeply involved in instrumental and vocal performance in college. At a thirty year college reunion a few years ago, Brian told his gathered classmates he was changing his major to music three decades after the fact.
Brian went on to earn a Masters of Divinity from San Francisco Theological seminary in 1987, and served as pastor in Presbyterian churches and, for 17 years, as pastor of the Community Church, UCC, in Guerneville. He has been our Minister of Music since 2005, supporting our music program where he leads the Chancel Choir, Wind Ensemble and Jazz Band. As our Minister of Music, Brian coordinates worship music with the directors of the Handbell Choir, the Children's Choir, Acoustic Folk Group, the Divine Connection and a wide variety of other music.
Brian also works as a chaplain at Santa Rosa Memorial Hospital. Brian and his wife Pam have two grown sons and a high school daughter, and has lived in Guerneville for 27 years.
The Chancel Choir
The Chancel Choir rehearses on Thursday evenings at 7:00 pm in the Choir Room and typically provides our worship music two Sundays each month, except during the summer months. An adult voice and a desire to sing are all that is required to join the choir. Stop by rehearsal on Thursday evenings or contact the Minister of Music, Rev. Brian Plaugher at 823.2484, ext. 101 or by email.


The Handbell Choir
The handbell choir of the Community Church of Sebastopol formed in 1986 under the direction of Joyce Morrow. The handbell choir saw three other directors until Karna Roa began as director in 2002. For the last 16 years, Karna has guided the musicians to prepare music for services once per month along with special Easter and Christmas services. The handbell choir plays with five octaves of Schlumerich handbells, two octaves of Malmark bells, and three octaves of Suzuki handchimes.
We always welcome new members to join our handbell choir. It helps greatly if you know how to read music, however it is not a strict requirement. It's more important that you know how to count, have a little rhythm, and a whole lot of determination to try something fun and new.
Please contact the church office or Karna Roa if you are interested in joining!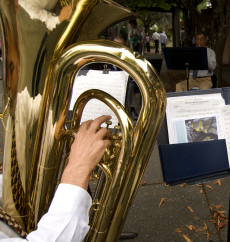 The Brass Choir
Our most musically demanding ensemble, the Brass Choir, performs seasonally with rehearsal times scheduled as needed. Perhaps you played the trumpet in high school and would like to brush up on your musical talents - to learn more, contact Jim Jenkins or Brian Plaugher via email.
The Children's Choir
We are currently in the process of rebuilding a strong children's choir - please contact the church office with any questions at 707.823.2484.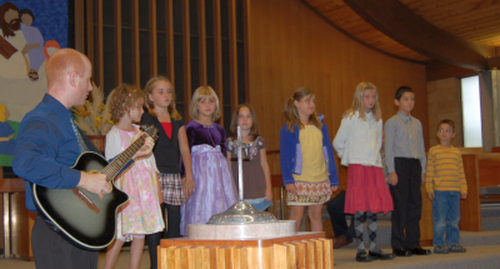 Divine Connection
Our newest group, calling themselves the Divine Connection, is led by Paula Matzinger. Divine Connection offers a new approach to both traditional and contemporary Church music. Using piano, guitar, bass, drums and vocals, they find inspiration not only from the hymnal and American gospel, but also in bluegrass, jazz, rock and pop (sacred or secular), always looking for the divine in any song, and perhaps changing its tempo or feel, to enhance its message. For more information, contact Paula via email.
Folk & Acoustic Group
Folk & Acoustic Group is on hiatus. Check back, or contact the church office for more information.
Ukuleles
The UkeStars never take a break and will practice at their regular time and place through the summer!
Vicki Reno hosts a Ukulele group that meets Friday mornings in Fellowship Hall from 10-11:30 am. Vicki teaches and will even provide a ukulele to interested adults. For information, contact Vicki via email.